[ad_1]
Video marketing has become an essential strategy for businesses looking to grow and connect with their target audience. With the rising popularity of video content, it is crucial for businesses to have the right tools to create, edit, and distribute videos. In this article, we will be discussing ten must-have video marketing tools that can help businesses boost their growth and achieve their marketing goals.
1. Video Editing Software:
Video editing software is essential for businesses to create professional-looking videos. Tools like Adobe Premiere Pro, Final Cut Pro, and Sony Vegas Pro offer a wide range of advanced editing features, including transitions, filters, and color correction. These tools enable businesses to create visually appealing videos that capture the attention of their audience.
2. Video Hosting Platforms:
Hosting platforms such as YouTube, Vimeo, and Wistia provide businesses with a space to upload and share their videos. These platforms allow businesses to reach a wider audience and increase their video's visibility through search engine optimization (SEO) techniques. In addition, these platforms offer analytics tools, which help businesses track the performance of their videos and gain insights into their audience's engagement.
3. Social Media Management Tools:
Social media platforms like Facebook, Instagram, and Twitter are powerful channels for video marketing. Using social media management tools such as Hootsuite, Buffer, or Sprout Social, businesses can schedule and publish videos across multiple platforms simultaneously. These tools also provide analytics and reporting features, enabling businesses to measure their videos' performance on different social media channels.
4. Animated Video Creation Tools:
Animated videos are engaging and can convey complex messages in a visually appealing way. Tools like Vyond, Powtoon, and Animaker allow businesses to create animated videos without needing extensive design or animation skills. These tools provide a library of pre-designed templates, characters, and animations, making it easier for businesses to create compelling and professional-looking animated videos.
5. Video Analytics Tools:
Measuring the success of video marketing campaigns is crucial for businesses to improve their strategies. Video analytics tools like Vidyard, Wistia, and YouTube Analytics provide businesses with valuable insights into the performance of their videos. From view count and engagement metrics to audience retention and conversion rates, these tools offer in-depth data that helps businesses understand their videos' effectiveness.
6. Interactive Video Creation Tools:
Interactive videos allow businesses to engage their audience on a deeper level by incorporating interactive elements such as quizzes, polls, and clickable hotspots. Tools like HapYak and WIREWAX enable businesses to create interactive videos without the need for technical expertise. These tools offer drag-and-drop interfaces, allowing businesses to add interactive elements seamlessly.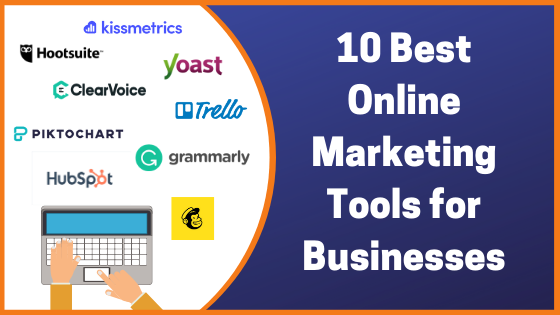 7. Video SEO Tools:
Optimizing videos for search engines is essential for increasing their visibility and driving organic traffic. Video SEO tools like VidIQ, TubeBuddy, and Morning Fame provide businesses with insights into keywords, tags, and trends, helping them optimize their video titles, descriptions, and tags for better search rankings. These tools also offer competitor analysis and YouTube channel audits, helping businesses stay ahead of their competition.
8. Video Transcription Services:
Transcribing videos helps improve accessibility and SEO. Services like Rev, Sonix, and Speechpad offer accurate and efficient video transcription. These tools convert spoken words in videos into written text, making it easier for viewers to understand the content, particularly for those who are deaf or hard of hearing. Additionally, transcriptions can be used to optimize video metadata for better search rankings.
9. Live Streaming Tools:
Live streaming has gained immense popularity in recent years, providing businesses with a real-time way to connect with their audience. Platforms like Facebook Live, YouTube Live, and Twitch offer businesses the ability to stream live videos to their followers. Tools such as OBS Studio and Wirecast enhance the live streaming experience by enabling businesses to add overlays, graphics, and effects.
10. Video Email Marketing Tools:
Personalized video messages in email marketing campaigns can significantly increase engagement and conversion rates. Tools like BombBomb, Vidyard GoVideo, and Covideo allow businesses to record and embed videos directly into emails. These tools also offer email tracking and analytics, helping businesses measure the effectiveness of their video email campaigns.
The Power of Visual Storytelling: How It Dominates Marketing Strategies
In conclusion, video marketing has become an integral part of business growth strategies. The ten tools mentioned above cover various aspects of video marketing, including video creation, editing, distribution, analytics, and optimization. By incorporating these must-have video marketing tools into their strategies, businesses can enhance their brand visibility, engage their audience, and achieve their business growth goals.
[ad_2]